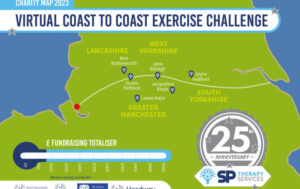 This September, in honour of
SP Therapy Services
25th anniversary, they are teaming up with their patients (and anyone else who'd like to join them along the way!) to complete a
virtual coast to coast walk
and raise funds for their local Headway groups. This includes us!
This exciting initiative aims to promote movement, foster community and raise funds for four local Headway charities.
The challenge will kick off on September 1st.The challenge is not just about covering distance; it's about embracing the spirit of unity and determination to empower individuals facing various health challenges. With the vision to encourage our patients to embark on a journey of movement and wellness and the mission to provide unwavering support every step of the way, we are gearing up to make a lasting impact.